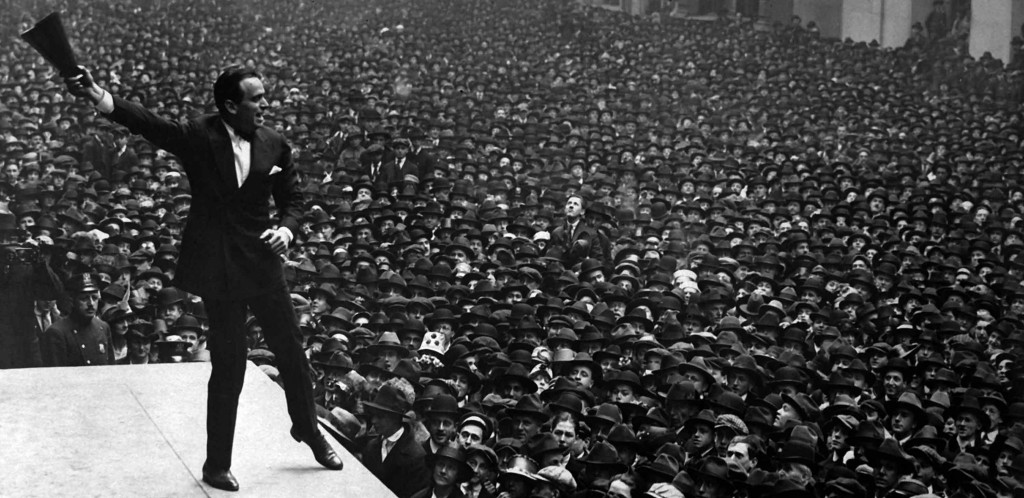 JUST LAUNCHED:
AN INTERACTIVE PERSONA CREATOR

Xtensio is a toolbox to help you organize your thoughts, make decisions and present ideas. Learn more about the Persona Creator and other free tools at  xtensio.com
One of the benefits of working with lots of different startups is that when we discover something that works really great with one project, we can repurpose it for others when it applies. Although every product is unique and requires its own custom approach, we try to define processes for common UX design steps whenever possible.
Yeah, sure, there are a lot of examples out there of how to put together personas.  But frankly, we weren't crazy about any of them as a whole, so we pieced together our own persona template from a few examples and then spiced it up a bit with some extra psyche profiling.  We've got personality archetypes, Myers-Briggs types, core motivators, you name it.
You can use the template to generate personas for user experience design process, branding and marketing strategies. We think this layout conveys a lot of great info and is pretty easy to read at a glance, and even looks great posted up on the wall.  We got great feedback from our startups and everyone seems to love it as much as we do, so we hope you will too!
Get the link to download the file.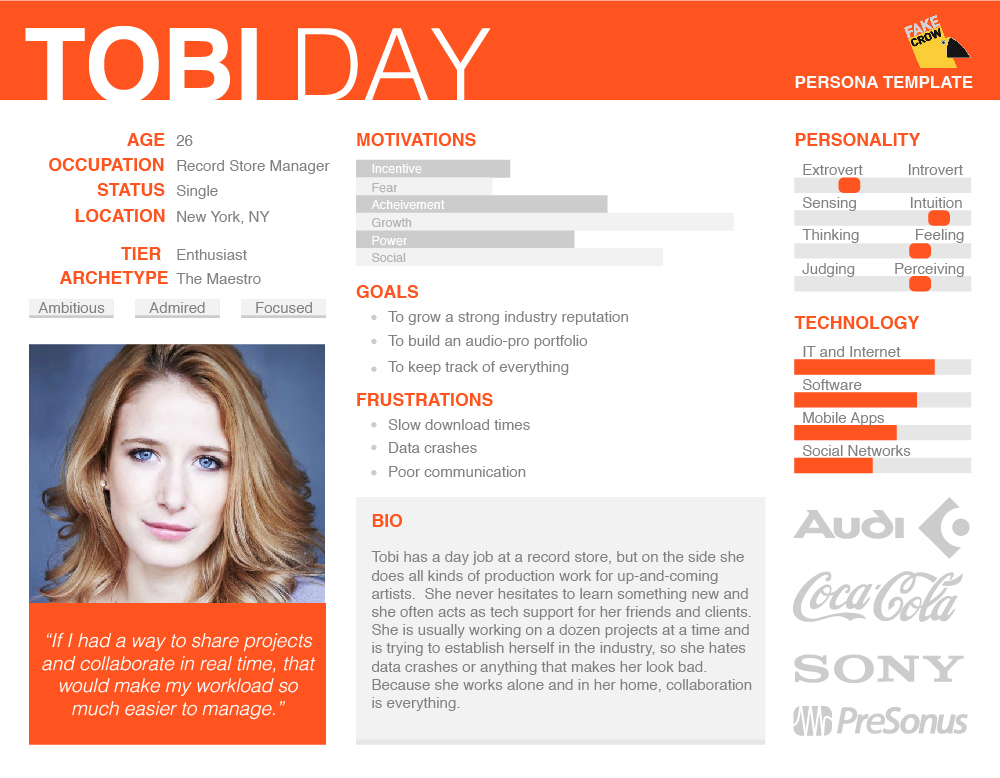 To make it more shareable, we've cleaned it up a bit, added instructions, sample data, a wireframe, and a printable version that can be filled in by hand when you're in a hurry.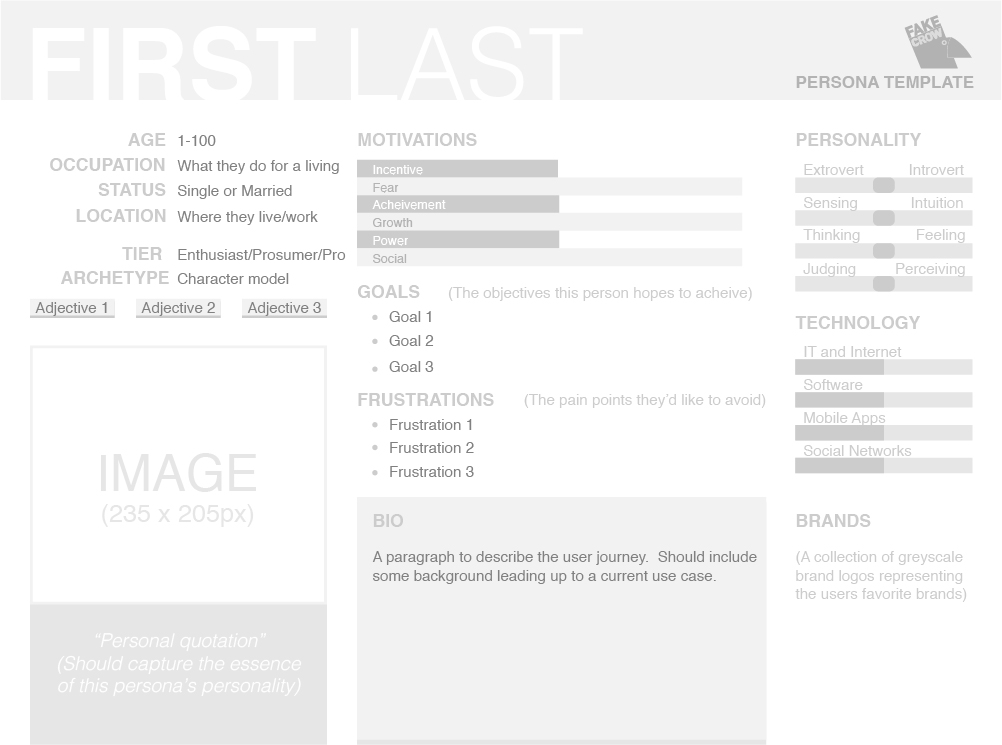 The file is organized into layer groups and is pretty simple for the most part.
1.  The top layer "Info" group is for instructions
2.  The second layer "Content" group is for content and includes the sample data
3.  The third layer is a grey scale "wireframe"
4.  And the fourth "Print" layer contains a printer-friendly version
The zip folder also includes a PDF for the printable version.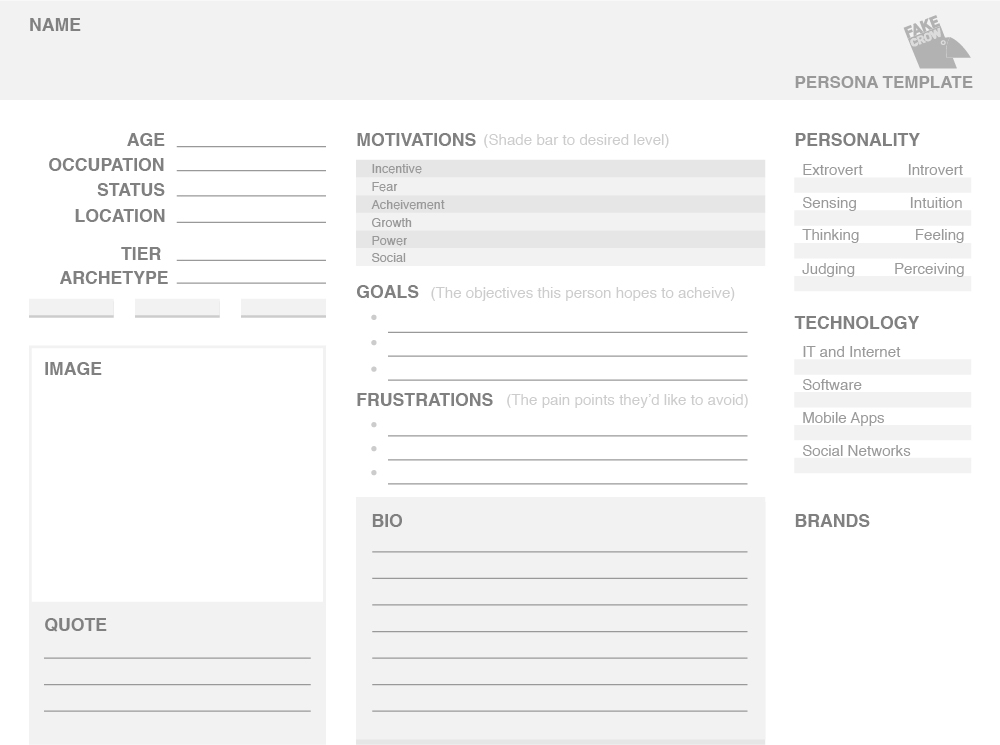 Since we work a lot in Adobe Illustrator, this version is an .ai file, but if you are interested in a different format just let us know.
The download is free with a tweet, or a share on LinkedIn.
Thanks for helping us share this. Enjoy working on new user personas for your product!
How dare we give away free stuff?
Here at Fake Crow, we are always looking for ways to increase the efficiency of our workflow.
Over the years, we've come up with what we like to think are some pretty cool solutions to common UX problems, and yet up until recently we've been keeping them all to ourselves for some reason. But now that we think about it, these tools could actually be really useful to somebody who doesn't have the time to build them from scratch, so why not put them out there and share them with the community.

JUST LAUNCHED:
AN INTERACTIVE PERSONA CREATOR

Xtensio is a toolbox to help you organize your thoughts, make decisions and present ideas. Learn more about the Persona Creator, One Pager Builder, Lean Canvas and other free tools at xtensio.com
Related Reads:
17 Of Our Favorite Stock Image and UI Design Sources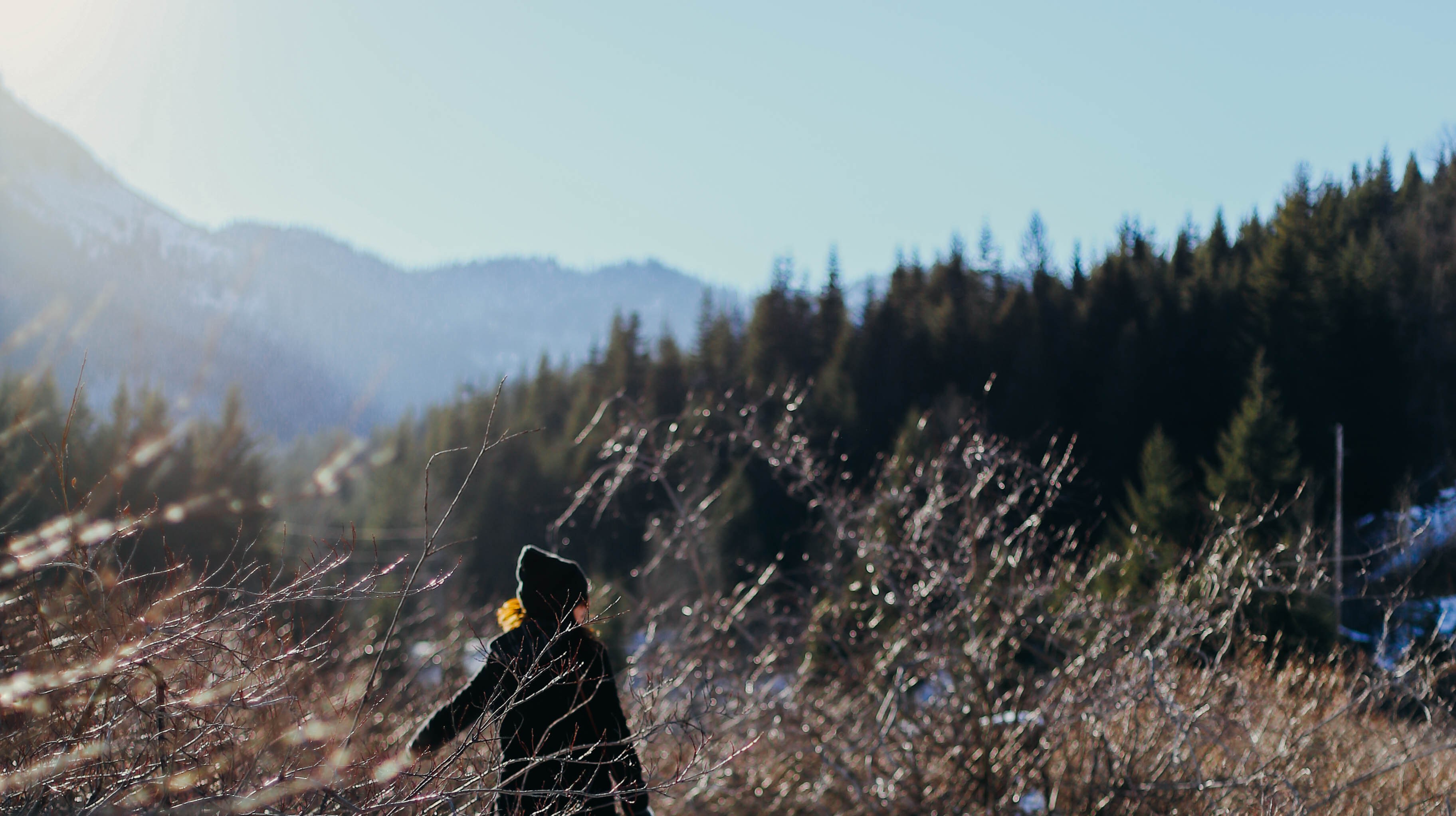 UX Sketching Kit for iOS Apps
Find High Quality, Free to Use Images with Google Search